Start Developing Your Child's Potential with Little Tigers Tae Kwon Do!  
Birmingham parents want to prepare their children for the future while giving them the exercise and mental stimulation they need today. That's why World Class Tae Kwon Do is so proud of "Little Tigers," our Tae Kwon Do class geared specifically towards four- and five-year-olds.
Join us today to give your child the chance to grow and learn as a Little Tiger! Just fill out the short form on your screen to learn more!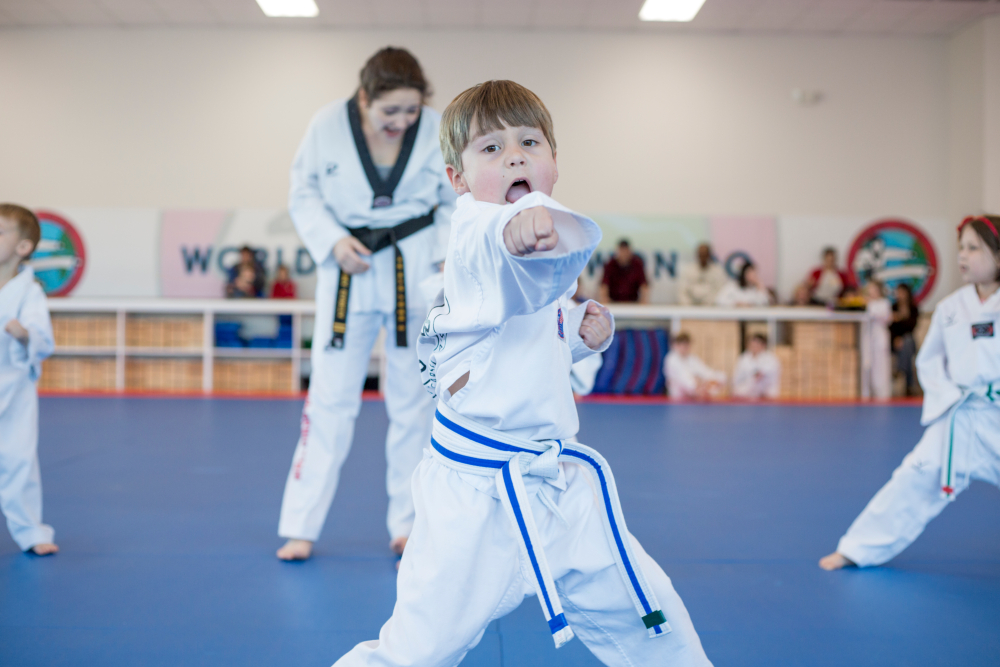 Make World Class Tae Kwon Do the Best Beginning
A child's first extracurricular activity sets the tone for their involvement down the road. You want an activity that's valuable but also fun! Little Tigers accomplishes both through the comprehensive tenants of Tae Kwon Do:
Mental: Tae Kwon Do develops listening skills and increased attention span.
Physical: Tae Kwon Do teaches full body coordination and gross motor control.
Social: Tae Kwon Do teaches respect and positive interaction with peers of the same age.
Emotional: Tae Kwon Do teaches patience and the importance of hard work.
Little Tigers is Our Version of a Huge Head Start
When it comes to preparing your child for the demands of Pre-K, Kindergarten and beyond, the martial arts are unmatched. Here's why Birmingham parents choose World Class Tae Kwon Do for their future students:
Structured activity: Get your child accustomed to the expectations and dynamics of a classroom.
Self-esteem: Give your child a taste of hard work and accomplishment that will boost their self-confidence.
Mentorship: Introduce your child to what a teacher should be — kind, skilled, and understanding.
Come See Why Our Preschool Class is World Class!
Don't wait for elementary school to give your child an enriching extracurricular experience. If you have any questions about the martial arts or about how to get your young learner involved, reach out to World Class Tae Kwon Do!
Just fill out the short form on your screen to get in touch and secure your child's spot in Little Tigers today!
Our Little Tigers Classes Are Located In